We interviewed Mr. Takuya Kakikawa and Ms. Chie Hagihara, Information Systems Group, Business Administration Department, Encourage Technologies Co., Ltd. about the background and usability of introducing Repsona.
Please tell us what your business is
Ms. Hagihara: Encourage Technologies is a company that aims to realize the system operation that customers should have.
We engage in lively discussions and hearings with our customers in order to share the true purpose that underlies their worries and needs, rather than simply responding to their needs indiscriminately. And we develop and provide packaged software that creates new value. Typical products include "ESS REC", which is a software product that records the operation details of the system. Most of the general operation logs are acquired by text, but "ESS REC" acquires the recording as a video, so you can look back on it like playing a video. Unlike text log analysis, which requires imagination, it can be visually confirmed, so it is very popular because it is easy to understand and operate.
In addition, we develop and provide software products that safely protect system operations, such as detoxifying files, preventing abuse and misuse of privileged IDs, and preventing unauthorized access to important systems.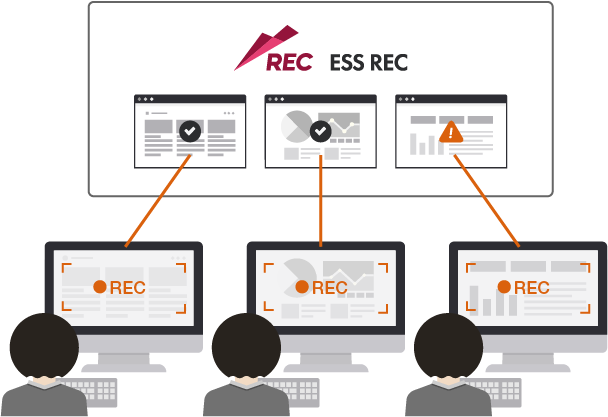 ESS REC (REC) - System operation trail inspection / audit solution
Please tell us about your work at the company and your role.
Ms. Hagihara: We belong to the Information Systems Group, Business Administration Department. It is not a department that sells products, but a department that establishes a shared foundation for the entire company. We handle software used company-wide, such as attendance management, customer management, accounting, and other internal systems. In addition, this department is in charge of system operation, which is the foundation of the company in which all employees are involved, such as network infrastructure and computer setup for employees.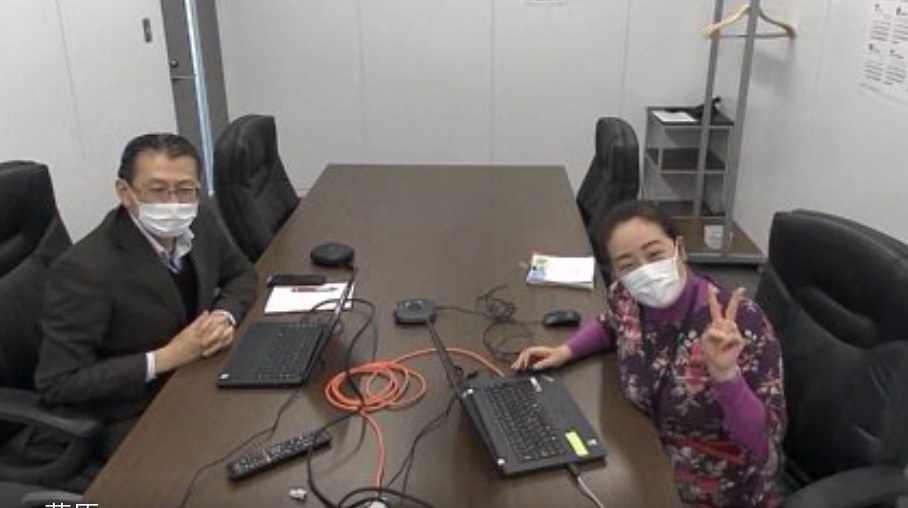 We had a remote interview in a very peaceful atmosphere.
Do you have any issues you felt before using Repsona?
Ms. Hagihara: Four of us are in charge of system operation (application and infrastructure) of a company of 200 people. The work of the information system group is diverse and the amount of work is very large. It feels like the high waves have been busy for a long time since I joined the company.
Mr. Kakikawa: Originally, I made something like a task management sheet in Excel. It is based on the management sheet for monthly reports. I inserted a line, added a task, switched the person in charge, operated the parent-child relationship, etc., cut it, copied it, and moved it. However, the number of members has increased by two, and the number of tasks has increased steadily.
Ms. Hagihara: Excel-based task management is too difficult to use. I'm not sure about the person in charge, the deadline, or the progress rate. This kind of management doesn't work. Let's do something! I'll look for it! I proposed.
Mr. Kakikawa: Don't be like an Excel craftsman anymore! She said.
Ms. Hagihara: I thought there was something that would definitely be better than it is now, without spending too much.
In my previous job, I used MS Project. By accumulating man-hours, you can quickly plan the overall schedule period on the Timeline (Gantt chart). On the other hand, if there is a due date for delivery, we can calculate back and find that the allocation of personnel and the intermediate process must be completed on this date. The function was very convenient, so when considering the product selection, we paid particular attention to the following requirements.
Timeline (Gantt chart) can be used
Task management with TODO
Being able to comment on tasks
So, among the tools I found, was Repsona.
Why did you choose Repsona?
Ms. Hagihara: There were various tools for task management, but when it came to using the Timeline (Gantt chart), the price went up and it was hard to fit our budget. So, when I tried Repsona, which can also use the Timeline (Gantt chart) for free, it was as good as "Is it okay to use this for free?", So I decided to go with Repsona.
In our case, there are many job categories, and in practice we wanted to create and manage multiple projects, so we switched to a paid plan and used it. Still, I think it is a low price for a product with a Timeline (Gantt chart).

Repsona with free Timeline (Gantt chart)
How do you feel about using Repsona?
Mr. Kakikawa: I always work with Repsona, and I use it very conveniently. Unlike before, the status of tasks is clarified, such as the display can be switched immediately by deadline and charge, and a large number of tasks can be managed. Excel craftsmen are gone.
Ms. Hagihara: The support system was good. Very quick response in case of trouble. I was a little worried about the reply to the inquiries via chat, but they responded immediately and it was a quick FAQ.
Also, I think the speed of the update is also good. Various functions have improved in a short period of time. Usually, spec changes can be good or bad, but Repsona updates feel good.
Please tell us what you expect from Repsona in the future
Ms. Hagihara: I hope that it will be updated and changed. I think Repsona is based on the schedule management of development work. Therefore, I think that it is especially suitable for "things that always have a delivery date". However, information system work like ours includes long-span work that must be dealt with even if there is no particular delivery date, and conversely, one-off tasks that occur many times in a short period of time. I will. Therefore, I think that the idea of Repsona does not fit. With more flexibility in completing tasks, I think it will be easier for people in various industries and formats to use.
Mr. Kakikawa: Currently, I mainly use task management and Timeline (Gantt charts). Repsona has many other features, and I'd like to take advantage of more features such as charts and productivity, but I'm still not sure. I would like to see how to use it and examples of its use in other companies. It's an easy-to-deploy price and a good service, so I'd like to make it available to other departments in our company. First of all, we want to master it and share it with the whole company.
I would also like to expect updates of functions that are convenient for daily work, such as status color coding, activity display, and print export for reporting.
Mr. Takuya Kakikawa and Ms. Chie Hagihara, Information Systems Group, Business Administration Department, Encourage Technologies Co., Ltd.